DESCRIPTION
Spiral wound gaskets have the ability to recover under the action of fluctuating loads caused by process fluid pressure and temperature changes, flange face temperature variations, flange rotation, bolt stress relaxation and creep.
The gasket sealing element consists of a pre-formed metallic winding strip with layers of a softer, more compressible sealing material which, during compression, is densified and flows to fill imperfections in the flange surfaces when the gasket is seated. The metal strip holds the filler giving the gasket mechanical resistance and resilience.
The outer ring of the spiral prevents blow outs and simplifies fitting the gasket. The inner ring acts as an additional heat shield when subjected to high temperatures. Spiral wound gaskets are also easy to fit as well as remove and will not damage a flange face.
STOCK
In stock with the construction of:
Carbon outer/ 316 stainless inner/ Graphite filled
ALL PRESSURES AND TEMPERATURES ARE SUBJECT TO INDIVIDUAL APPLICATION
CONSTRUCTIONS OF SPIRAL WOUNDS
FILLER MATERIAL

MAX. TEMPERATURE

ASME B16.20 COLOUR

CODING

Graphite
500°C
Grey Stripe
PTFE
260°C
White Stripe
Nonas
350°C
Pink Stripe
Mica
1000°C
Light Green
Mica & Graphite, Zonal
900°C
N/A
| WINDING MATERIAL | MAX. TEMPERATURE | ASME B16.20 COLOUR CODING |
| --- | --- | --- |
| 304 Stainless Steel | 650°C | Yellow |
| 316L Stainless Steel | 800°C | Green |
| Duplex | 800°C | N/A |
| 347 Stainless Steel | 870°C | Blue |
| 321 Stainless Steel | 870°C | Turquoise |
| Monel 400 | 800°C | Orange |
| Nickel 200 | 600°C | Red |
| Titanium | 540°C | Purple |
| Hastelloy B – 2 | 1000°C | Brown |
| Hastelloy C – 276 | 1000°C | Beige |
| Inconel 600 | 1000°C | Gold |
| Inconel 625 | 1000°C | Gold |
| Inconel X – 750 | 1000°C | Light Grey |
| Incoloy 825 | 1000°C | White |
| Zirconium 702 | 500°C | N/A |
GREEN = OUTER RING
BLACK = WINDING
GREY = INNER RING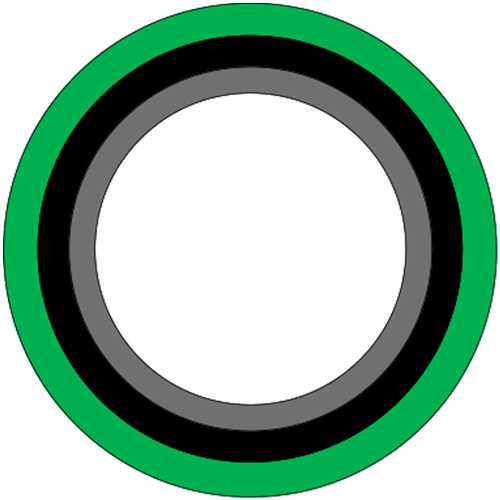 TYPE CRIR
Solid metal inner & outer ring

Suitable for high pressure and temperature applications

Raised face or flat flanges

Prevents turbulence and erosion damage to flange

Prevents damage to the gasket bore and inner windings

Acts as a heat shield

Acts as a corrosion barrier

General and critical duties


OTHER CONSTRUCTION TYPES ARE AVAILABLE ON REQUEST